TD CLASSICAL KIDS
TD Classical Kids, our youth outreach program, is generously sponsored by TD Bank. TD's support allows the Gift of Music to enrich the lives of youth through innovative, interactive classical music concerts and educational programming.
Visiting artists from around the world inspire High River youth with their talent, insights, and passion for music. From workshops to concerts, these musicians work with our youth to hone their performance and listening skills.
"Attending a concert performed by musicians of such a high caliber was an experience that our students will remember for years to come…." 
Barb Haney Jones, Music Specialist, Foothills School Division
Proteus Saxophone Quartet coaches young Saxophonists

"I was impressed with the performers ability to immediately connect with our students. They were inspiring and I can truthfully say we were honoured to have hosted such a special event…The smiles on their students' faces and the shared knowing glances said it all."   Music Teacher Extrordinaire, Mr. Herb Froese, Ecole Senator Riley
Luca Buratto, Honens Laureate conducts a masterclass with local students
Flüte Alors! inspiring young recorder players!
WindSync Ensemble presents excerpts from Peter and the Wolf to K-5 High River students
WindSync Ensemble performed excerpts from Tchaikovsky's Peter and the Wolf to 320 students from Kindergarden to Grade 5 from Holy Spirit Academy, Ecole Joe Clark School, and Spitzee School. The WindSync Ensemble had all 320 sudents  on the edge of their seats for this fabulous concert. The musicians showcased each of their instruments and many of the students are now keen to play the bassoon, French Horn, clarinet, flute, and oboe when they get to middle school. Truly inspiring musicians!
Guy Few and Nadina Mackie-Jackson inspire High River students.
The charismatic and charming, Guy Few, coaches students from the superb school music programs in High River.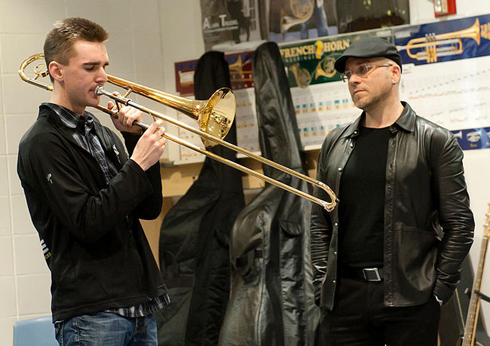 photo courtesy Taylor Weaver, High River Times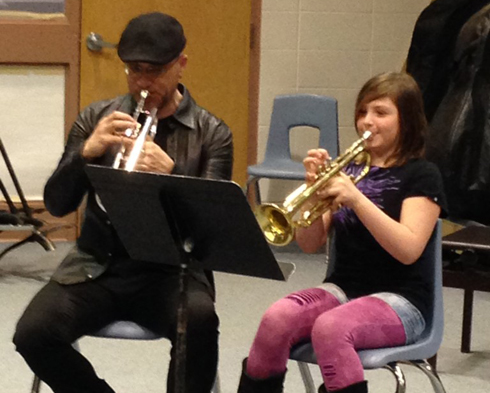 Yadong Guan Trio brings beautiful music from China to displaced flood families at Saddlebrook.