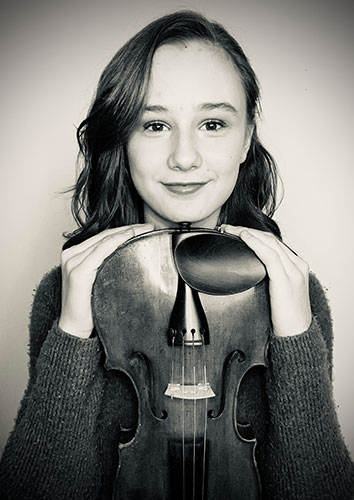 Each year, we are proud to introduce some of Canada's best emerging musical talents in our annual Young Musicians Extraordinaire concert. In 2021, accomplished violinist Anna Stube will grace our stage as a Young Musician Extraordinaire.
At age 15, Anna Stube has already enjoyed an extensive international performance career with acclaimed concerts in Israel, Poland, and various venues in the United States and Canada. She began playing violin at age five, around the same time that her family moved to Canada from Latvia. Her teachers include Maria Meadlow, and professor William Van der Sloot of the Mount Royal University Conservatory in Calgary.
Anna has won numerous awards from Canada's Royal Conservatory of Music and the Calgary Performing Arts Festival. As winner of the grand prize at the Canadian Music Competition (CMC) in 2018 and 2019, she performed with the Calgary Philharmonic Orchestra under the baton of Karl Hirzer. She has participated in highly esteemed music programs including the Young Artist's Program in Ottawa, the Orford Music Academy in Quebec, and the Morningside Music Bridge (MMB) program at the Chopin Academy in Poland. Anna was a finalist at the Concerto Competition at the New England Conservatory in Boston, MA.
As a member of "Trio Savyon" Anna performed at the prestigious Rockport Chamber Music Festival concert serie, in Tel Aviv, Jerusalem, Ashdod and Nazareth, and at a private recital for the Mozart Patron Group of the Calgary Philharmonic Orchestra (CPO) in 2018. She was invited to appear on NPR's 'From the Top' program in 2019 as part of the MMB program.
In November 2019, Anna won first prize in the Montreal Symphony Orchestra Manulife Competition in Montreal, Quebec, which included a full scholarship to the Domaine Forget program. She took prizes at the Lethbridge Symphony and Philadelphia International Music Festival Concerto Competitions, and has collaborated with the Calgary Philharmonic Orchestra, the Calgary Civic Symphony in 2018 and the Kensington Sinfonia in 2019 after winning their concerto competitions.
Anna is passionate about advocating for arts education, illuminating social issues and helping make music more accessible to underprivileged people around the world. She is a member of the Back to Bach Project, a global initiative inspiring and developing music and arts education in children, and appears in outreach performances at Calgary's many senior centres and schools.
Don't let the blue jeans fool you – Anna Stube is one to watch.
Anna was originally slated to appear alongside vocalist Cynthia Gan. We look forward to the time when we can welcome Cynthia to our concert hall in High River.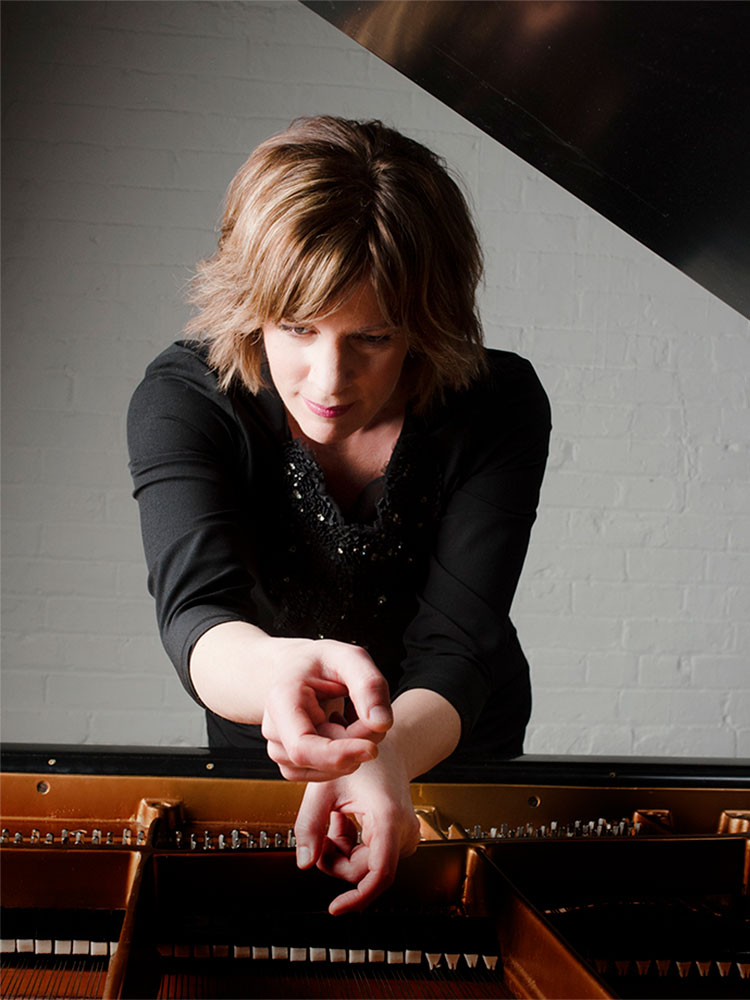 Susanne Ruberg-Gordon | Collaborative Pianist
Swedish-born pianist Susanne Ruberg-Gordon, described by the Chronicle Herald as "a superb musician," is a highly regarded and sought after chamber musician and collaborative pianist. She has performed in Canada, the US and China with artists such as Dame Evelyn Glennie, Andras Diaz, Ron Leonard, James Campbell, Desmond Hoebig, Ian Swensen, Arnold Choi and Nikki Chooi. She has collaborated with a number of our young musicians over the years and we are thrilled to welcome her back.
In an effort to keep our audience members as safe as possible, we will be hosting this concert in accordance with our COVID-19 policy.
Anna's diverse program selection is a spiritual, exhilarating, colourful, nostalgic, and emotional journey through an expansive classical spectrum. 
Selections
Eugène Ysaÿe
Sonata No. 5 for Violin, op. 27 (1923)
Ludwig van Beethoven
Violin Sonata no. 7 op. 30, no. 2 (1801)
i. Allegro con brio
ii. Adagio cantabile
Ernest Chausson
Poème (1896)
Fritz Kreisler
Tambourin Chinois (1940)
Program Notes
The great violinist Eugene Ysaye's "Aurora" beautifully translates the transcendental tranquility dawning from turbulent inner phenomena of the Aurora Borealis, evoking visions of wonder and imagination in the first movement through progressively layering dimensions of sound and technique. The exuberant opening is followed by the curious character of a rhythmically centered second movement.
Violent dimensions and contrasts of the human spirit are emphasized in the impassioned psychological voyage through the harsh extremes of the first two movements of Ludwig Van Beethoven's "Sonata for Pianoforte and Violin No. 7," interchangeably encompassing episodes of fanatical rage with an infusion of sweetness accompanied by destabilizing chromaticism.
"Poeme," Ernest Chausson's preeminent work for the violin, presents a hauntingly melancholic theme woven into lyrical passages expressing the soul and allure of this instrument. Enigmatic reverberations of burning passion are depicted through sweeping orchestration and wondrous melodic lines, telling Ivan Turgenev's tale of a love triangle in which one of two men enchants his beloved with a folk song so powerful it resonates deep within her heart.
The program concludes with the 'Tambourin Chinois,' a culturally avante-garde virtuosic gem in the violin repertoire saturated with Chinese influence for a thrilling inferno finish to a rich display of works.
We thank collaborative pianist Susanne Ruberg-Gordon for supporting Anna's performance.