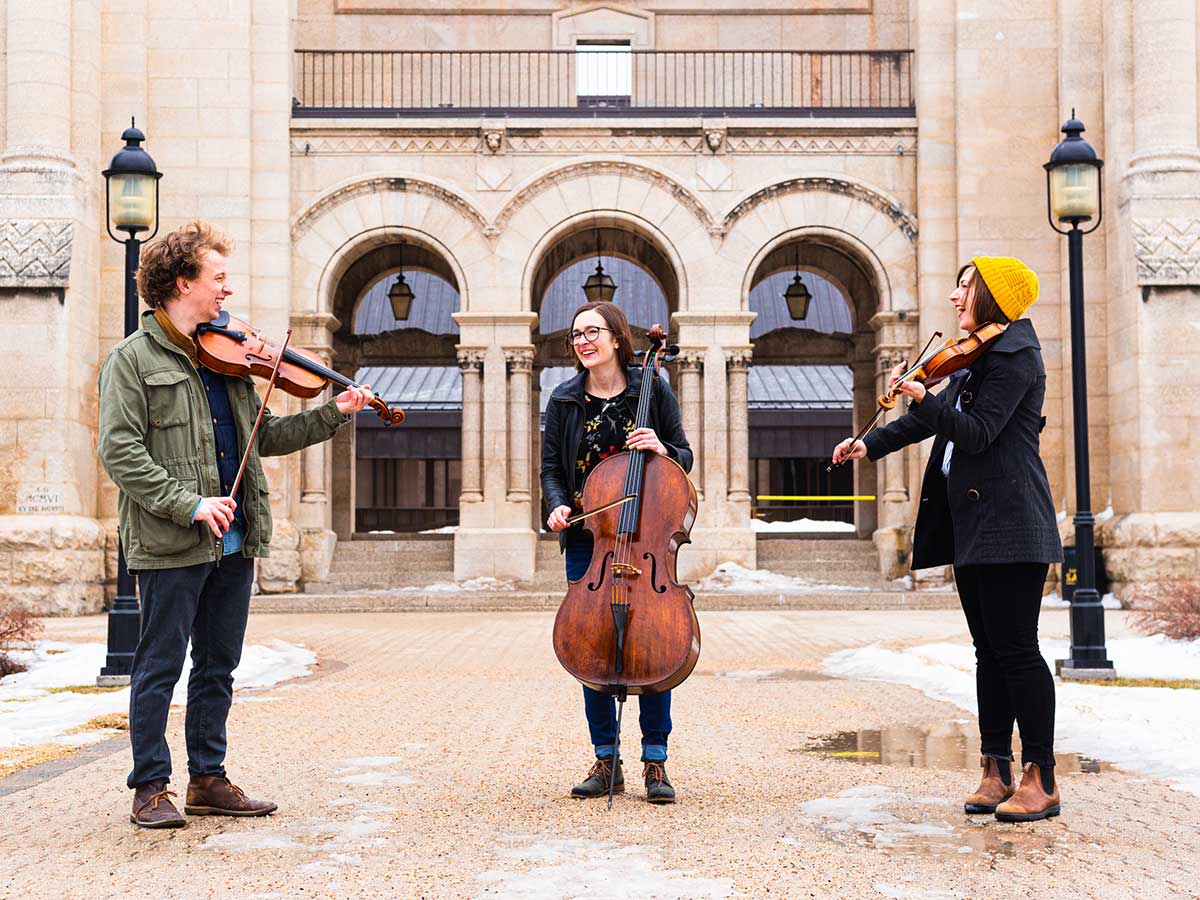 Could you use an infusion of energy? The Indigo Trio's Prairie Suite program is designed to inspire and refresh with a medley of classical, folk and fiddle tunes sure to set your toes tapping. This newly formed string trio brings together three accomplished artists all originally from the Prairies.
Violist John Sellick has been recognized as one of CBC's Hot Canadian Classical Musicians Under 30.
Cellist Alyssa Ramsay is an established figure in the Winnipeg classical music landscape, as a member of the Winnipeg Symphony Orchestra, solo performer and prized instructor.
Violinist Jessie Ramsay has participated in national and international concert performances and tours, and most recently trained in Germany.
In August, the trio performed their first curated livestream concert with the Banff Centre's Evolution: Classical program.
The three string players came together in 2021 as one of Prairie Debut's "Close to Home" ensembles. Their lively and engaging Prairie Suite program will fuse traditional Métis and Danish fiddle tunes with folk-inspired classical repertoire.
Presented in collaboration with Prairie Debut.
Presented in partnership with Prairie Debut
About the Prairie Suite program
"We discovered that exploring music and our experiences through the lens of our prairie identity was one way to bring a sense of shared humanity to our audiences, ever so hopeful that it would further unity, peace, and beauty wherever music would take us."

Alyssa Ramsey of the Indigo Trio
Bosse Nordin's Schottis
from Danish String Quartet's Wood Works
Zoltan Kodaly (1882-1967)
Intermezzo for String Trio
J. S. Bach (1685-1750)
Goldberg Variations for String Trio, BV@ 988 – Aria

Karen Sunabacka
A Reel Waltz (2022)
Neil Young
Old Man, arr. John Sellick
Jean Cras (1879-1932) String Trio
I.     Première mouvement
II.    Lent
III.   Animé
IV.   Très Animé
In an effort to keep our audience members as safe as possible, we will be hosting this concert in accordance with our COVID-19 policy.
A note from Indigo Trio
Our program seeks to explore the common ground of our human experience through the lens of our prairie identity. As prairie musicians, we are shaped by our memories growing up in this place, the natural landscape found here, and the communities that we live in. No two musicians play alike, yet they share a common language. Similarly, music across the world is diverse beyond explanation, but at the same time a shared piece of everyone's puzzle, understood and valued by all.