If you are ready for musical entertainment that will surprise, amuse and inspire – Percussiano3 might be just the ticket. This innovative concert performance featuring the Bergmann Piano Duo –Marcel and Elizabeth Bergman – and Calgary percussionist Rod Thomas Squance brings piano 4 hands and an array of percussion instruments together in a dazzling six-handed display of rhythm and melody.
It's been more than two decades since these musicians first encountered each other at the Banff Centre for Performing Arts. The connection was instant. Since that time, Elizabeth, Marcel and Rod have continued to collaborate on percussive/piano arrangements of repertoire ranging from classical music to children's opera, from contemporary to global and jazz. In a Percussiano3 program, you'll hear instruments ranging from the classical piano to castagnets, gourds, cow bells, sleigh bells, snare drum and chimes.
Prepare to be fascinated by a performance different from any you have previously experienced, buoyed by the camaraderie, enthusiasm and talent of three long-time collaborators and friends.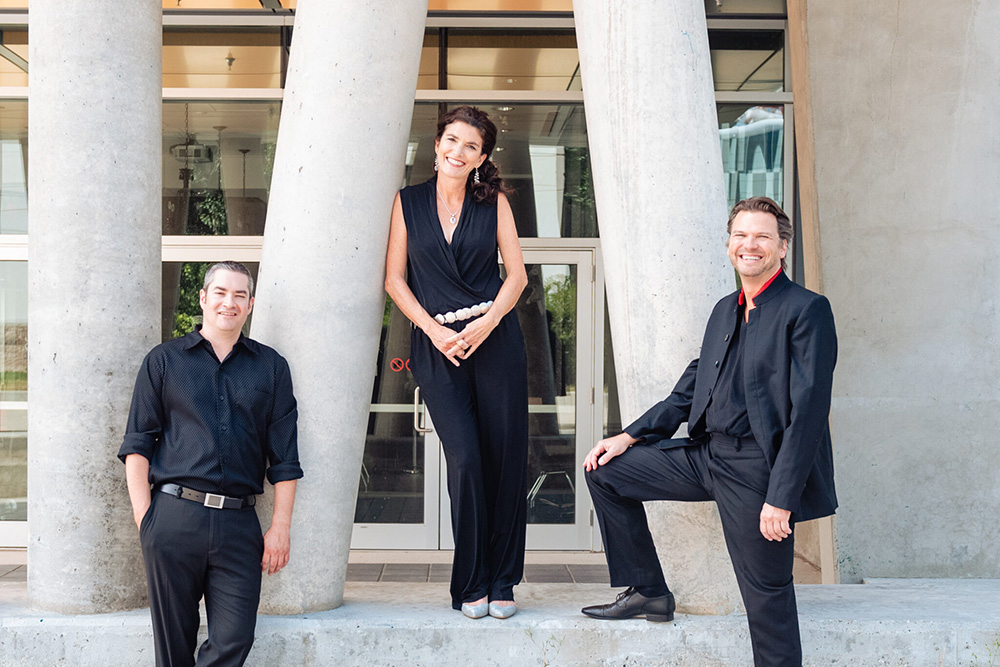 Percussiano3 | Rod Thomas Squance with Elizabeth and Marcel Bergmann
Review of Percussiano3 in performance
"… the Duo was the lynchpin in two performances that catered to those with tastes in the more popular side of classical music and to those who enjoy jazz-inflected contemporary music …. a remarkably versatile ensemble …"

"… percussionist Rod Squance [is] not only an expert in his accompanying role but impressive in his solos …. some of the most virtuosic moments in the concert."

Kenneth Delong | Calgary Herald
In an effort to keep our audience members as safe as possible, we will be hosting this concert in accordance with our COVID-19 policy.
Biography
The members of Percussiano3 enjoys connecting with audiences through lively performances and engaging explanations, and love taking the time to speak with enthusiastic audience members on stage after concerts.
Rod Thomas Squance
A stunning soloist, percussionist Rod captivates audiences with his perfect blend of compelling musicianship, sparkling technique, and exotic sound. He has performed with Yo-Yo Ma and the Silk Road Project, Paquito de Rivera, Dong-Won Kim, Kojiro Umezaki, Yu Hongmei and Prafulla Athalye. Rod has appeared on national radio and television, solo recitals and with many orchestras. Classically trained, Rod also plays jazz vibraphone, Balinese shadow-puppet music and Indian classical music. He currently teaches at the University of Calgary.
Elizabeth & Marcel Bergmann
The prize winning Bergmann Piano Duo's dynamic and energetic performances of uniquely eclectic programmes have inspired audiences nationally and internationally. They have performed in concert and with orchestras in the United States, Italy, Germany, The Netherlands, Spain, Portugal, France, Macedonia, Greece, China and Canada. The duo has recorded extensively and their repertoire ranges from the Baroque to the contemporary, including a myriad of Marcel's own arrangements and compositions. The duo also enjoy their roles as Artistic Directors of White Rock Concerts and curate a very popular series of coffee concerts throughout the Greater Vancouver area and on Vancouver Island.