We welcome the gathering darkness of November with storytelling, poetry and exquisite music, as CBC radio host Tom Allen, harpist Lori Gemmell and the Garneau String Quartet conjure A Poe Cabaret for our High River audience.
A Poe Cabaret was initially co-commissioned by Luminato and the Ottawa International Chamber Music Festival. Listen to this fresh retelling of the Romantic master's greatest works. Shiver at the crumbling gothic shadows cast in André Caplet's Conte Fantastique for harp and string quartet, inspired by Poe's cautionary quarantine epic The Masque of Red Death, and witness Poe's greatest success and deepest heartbreak in Alexina Louie's startling musical version of The Raven featuring narration, harp and string quartet.
A Gothic tale told in story and music
Tom Allen on the collaboration with Lori Gemmell of the Kitchener-Waterloo Symphony Orchestra
"…. [Lori] and I have put together an ever-growing number of shows that combine chamber music and storytelling. It is, apparently, just what we do."

Tom Allan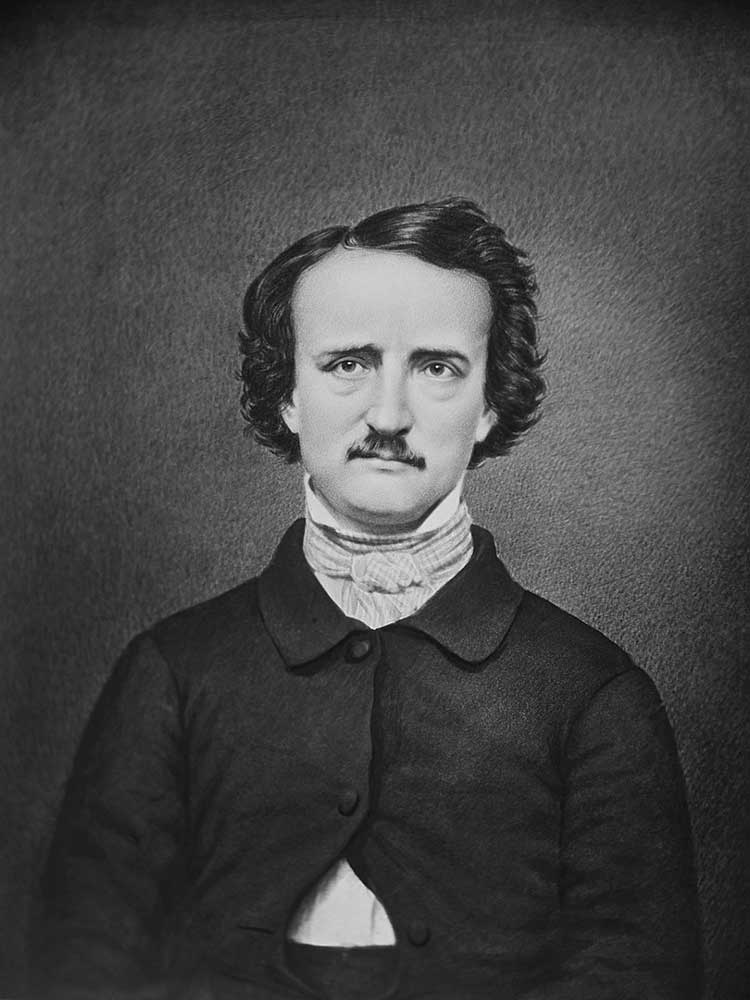 Program
The tragic life story of Edgar Allan Poe is captured in music by the brilliant and troubled impressionist Debussy, his student Caplet, and by Canadian composer Alexina Louis.
A POE CABARET
The Raven | Alexina Louis
Conte Fantastique | André Caplet
String Quartet | Claude Debussy
Showcasing the talents of:
Tom Allen, narration
Lori Gemmell, harp
Robert Uchida, violin
Laura Veeze, violin
Keith Hamm, viola
Julie Hereish, cello
In an effort to keep our audience members as safe as possible, we will be hosting this concert in accordance with our COVID-19 policy.
Tom Allen
Tom Allen was born in Montreal. He attended Marianapolis College and McGill, before finishing degrees at Boston University and Yale. Tom worked as a bass trombonist in New York City when there were still places you just didn't go, in Toronto, and on tour with the Great Lakes Brass. He began working for the CBC on his 30th birthday, a very long time ago, and, at the time of writing, still does. He has written three books, created and hosted countless shows for theatre companies and orchestras, as well as touring a series of cabaret/history/storytelling shows that includes Bohemians in Brooklyn, From Weimar to Vaudeville, The Missing Pages and, Being Lost, about the 15 hours John Cage spent lost in the Saskatchewan woods. His film, The Last Curlew, starring R.H. Thomson, will be released in 2022. Tom lives in Toronto with his beloved, the harpist Lori Gemmell, their son, and a politically astute puppy.  
Lori Gemmell
Lori Gemmell has been the Principal Harpist with the Kitchener-Waterloo Symphony since 2000. She teaches at Wilfred Laurier University and for the National Youth Orchestra of Canada. Lori enjoys being involved in many solo and chamber music projects: with the Four Seasons Harp Quartet, with trumpeter, Larry Larson, harp duo with, Jennifer Swartz, violin and harp with Etsuko Kimura, harp and storytelling with her husband Tom Allen, and playing with pop artists Kevin Fox and Feist. Lori has two solo recordings, Prelude and Canadian Music for Harp, a harp duo recording with Jennifer Swartz, The Garden of Peacocks, and Divertissement with trumpeter Larry Larson.
Robert Uchida | Violin
Robert joined the Edmonton Symphony Orchestra (ESO) as concertmaster in 2013, having held the same position with Symphony Nova Scotia for seven years. A passionate teacher, Robert serves on the faculty at the University of Alberta and has held teaching positions at Acadia University, the Manhattan School of Music and the National Arts Centre of Canada's Young Artists Program.
Laura Veeze | Violin
Dutch violinist and violist Laura Veeze has reached audiences on three continents as a soloist, recitalist, and chamber musician. She has held principal second violin positions with the Radio Chamber Philharmonic in the Netherlands and with Symphony Nova Scotia. In addition to her position with the first violins of the ESO, she is concertmaster of the Chamber Orchestra of Edmonton, and principal second violin of the Alberta Baroque Ensemble.
Keith Hamm | Viola
Keith has been principal violist at the ESO since September 2019, a position he held with the Canadian Opera Company Orchestra for eight seasons. A native of Rosebud, Alberta, Keith received his training at the Glenn Gould School of Music under the instruction of Steven Dann, and at the Mount Royal Conservatory with Nicholas Pulos. Keith is founder and artistic director of the Rosebud Chamber Music Festival in Rosebud, Alberta, and co-founder and violist of the Rosebud String Quartet.
Julie Hereish | Cello
Julie became assistant principal cello at the ESO in 2019. She previously held the same position with the Québec Symphony Orchestra. Born in Montreal, Julie pursued her studies in her hometown and then in Vienna, Austria. She is a co-founder and member of the Edmonton-based High Level Trio, comprised of ESO members. Alongside her husband, Keith Hamm, she founded The New Cohort at the beginning of the COVID-19 pandemic.