Bringing exceptional music closer to you
Engaging concerts that feel like you're among friends
Discover how incredible music is inspired, composed and played
Get closer to the music that inspires you. At High River Gift of Music, we share exquisite, world-class music through concerts, masterclasses, school clinics and outreach performances. Our goal is to give our audience access to incredible music, while providing insight into how it is envisioned, composed and played.
Relax and enjoy engaging concerts by renowned local, national and international vocalists and classical musicians, in a comfortable atmosphere that feels like you're among friends. 
Sunday September 10, 2023
Jon Kimura Parker, Illia Ovcharenko, Donavan Seidle and Ladom Ensemble
Honens in the Park Open Air Concert – A FREE family-friendly event!
Narrator, cello, piano, accordion and percussion
Join us as we launch our 15th season with Honens in the Park! This year, Honens artistic director Jon Kimura Parker introduces Ukrainian pianist Illia Ovcharenko, the 2023 winner of the Honens International Piano Competition. Violinist Donavan Seidle and Ladom Ensemble add to the fun in this year's edition of what is becoming an annual event.
Presented in collaboration with Honens
Friday October 20, 2023
Stéfane Tétreault with Akiko Tominaga
Cello and Piano Virtuosity
Cello and piano
Imagine cello and piano performed with an expertise and intensity that venture into the sublime. Stéphane Tétreault's playing has been described as "astonishingly mature not merely in its technical attributes but also in its warmth, brilliance and subtlety of colour and inflection" by Gramophone Magazine.
Presented in collaboration with Prairie Debut
Saturday December 2, 2023
Buzz Brass
Celebrating the Holiday Season
Trumpets, horns and trombones
Montreal-based artists Buzz Brass get the holiday season off to a rousing start with an exuberant Christmas concert. Brass takes on a fresh shine with dynamic performance and fresh, stimulating interaction, as classics you know and love are reinterpreted through trumpet, horn and trombone. Since 2002, this ensemble has captivated classical music lovers across the globe, establishing a reputation for innovative programming, praiseworthy recordings, and a unique repertoire and vision.  This is brass at its best, delivered with intelligence, whimsy and skill.
Presented in collaboration with Prairie Debut
Sunday March 10, 2024
Calgary Girls Choir Brava Vocal Ensemble
Young Musicians Extraordinaire
Artistic Director – Elaine Quillchini
Each year, High River Gift of Music is pleased to play a small role in helping to showcase Canada's finest talented young artists with our Young Musicians Extraordinaire concert.  Brava, meaning capable, commendable and courageous, is the name the Calgary Girls Choir uses to describe this group of young singers who are just beginning to come into their own. The Brava choir explores a passion for creating beautiful sound while pushing the boundaries of choral excellence. We invite you to join in applauding the promise and potential of these rising young musicians.
Friday April 26, 2024
Elinor Frey with Rosa Barocca

Directed by Claude Lapalme
Early Italian Cello Concertos
cello and baroque orchestra
Step back to a flamboyant moment in musical history with cellist Elinor Frey and the Rosa Barocca ensemble under the direction of Claude Lapalme. This program featuring their 2023 Juno award-winning album highlights the spectacular flair of early Italian cello concerts from the Baroque era.
We love to share the gift of music with you.
High River continues to support our audience by doing what we do best – sharing the extraordinary gift of music, which has such power to elevate, comfort and inspire.
Stay notified about our continuing activities by subscribing to ournewsletter.
Follow our Facebook and Instagram channels to learn more about the musicians and composers we have showcased, as well as those who inspired them. .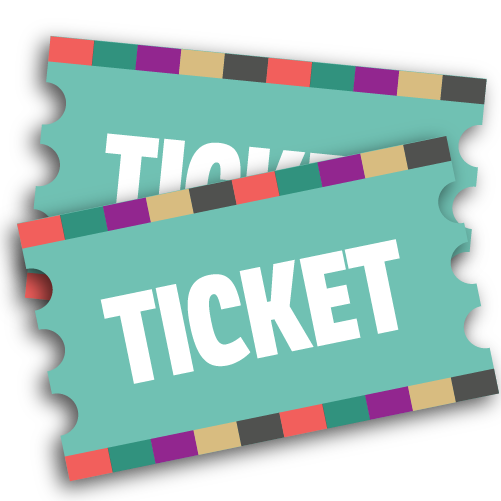 Dress circle access. No bow tie required.
Part of bringing our audience members closer to classical music involves making everybody feel at home. At a High River Gift of Music concert, the faces are friendly, the conversation is casual, and you can wear what makes you feel comfortable.
(Well, maybe not your pajamas.)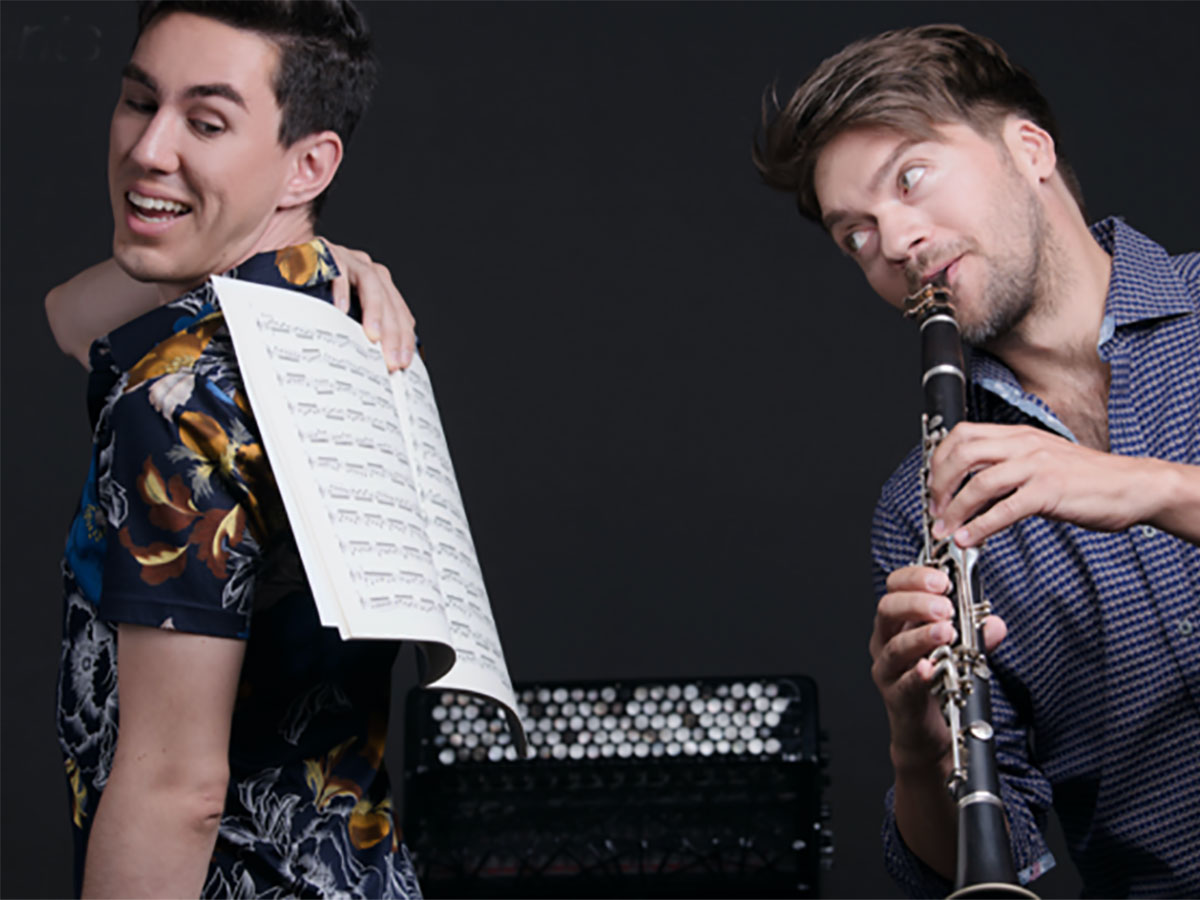 Our relationships are instrumental.
There's nothing that makes us happier than fostering a love of music! That's why we work with our artists to present music education and outreach activities including school concerts, band clinics, masterclasses, and community performances.
Showcasing local talent
Each year, we select promising local artists to feature in our Young Musicians Extraordinaire event. We're proud of the role we play in placing these fine performers in the public eye, and of what they accomplish once they leave our stage.
Jacques Forestier and Luka Coetzee, April 2023
Help us make music accessible
We can't thank our incredible group of members, sponsors and donors enough for all that they do in helping us to present excellence in musical performance. Want to learn more about them – and how you can help?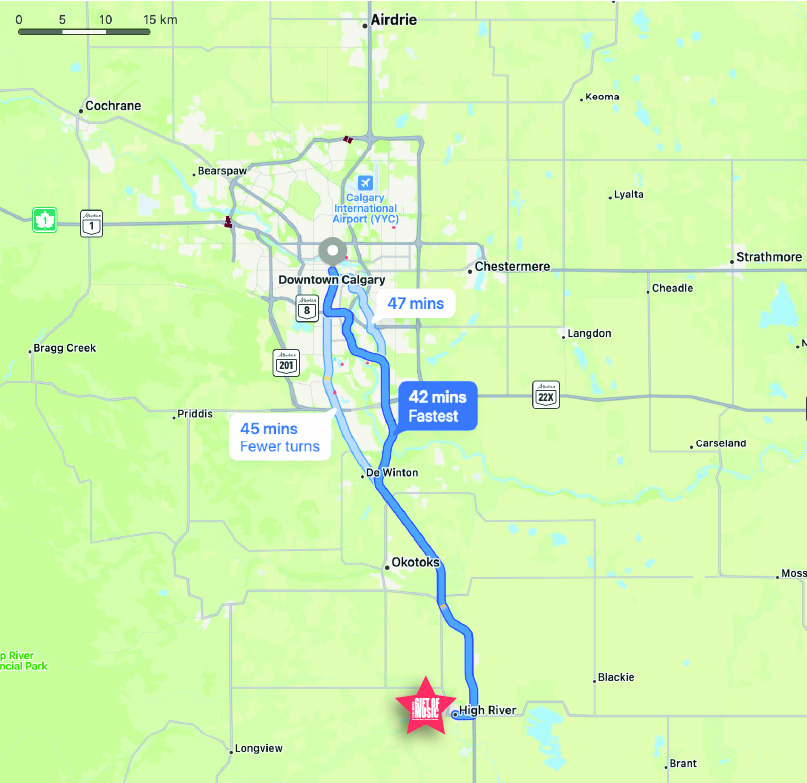 Visiting High River
It may come as a surprise to discover that High River is just a short drive away. For instance, travelling from south to north Calgary can take longer than driving to High River. Our local community is people-focused, vibrant, and friendly – a fantastic place to spend time. Nestled in the foothills of the Rocky Mountains, High River is a warm and vibrant community offering gorgeous trails and parks, family and fine dining experiences, comfortable accommodations, and one-of-a-kind shops. 
As you arrive in High River, spend some time exploring this lovely little town and the local services and amenities on offer.
We'd love to hear from you!
Connect
Stay in touch with us! You'll find details about our activities posted on Facebook and Instagram channels, along with fun and quirky musical facts, and videos that allow you to continue enjoying the gift of music between live events.